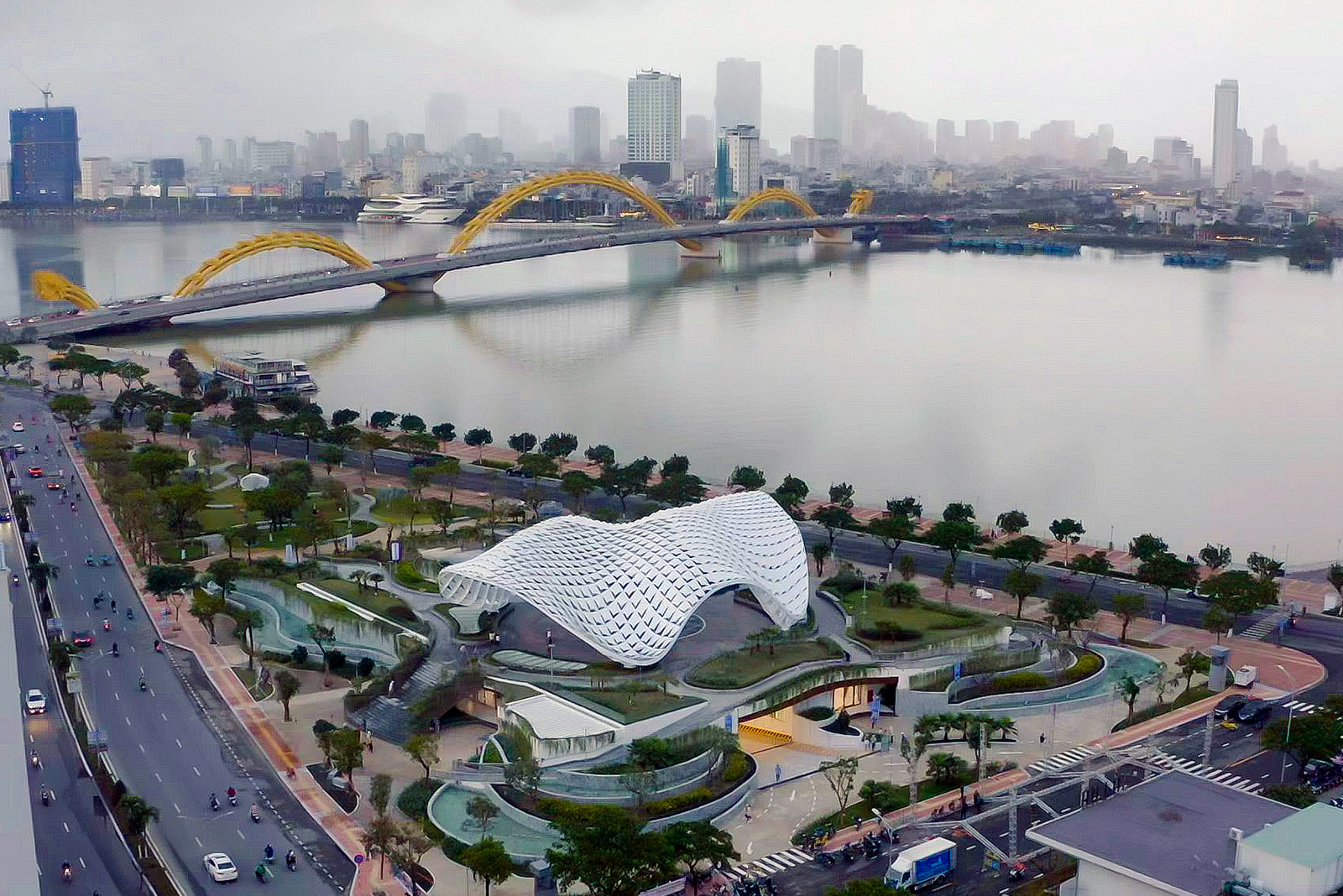 During the Tet Festival, APEC Sculpture Garden which officially opened to the public in mid-January 2022, daily welcomed hundreds of local people and tourists, especially young people, who came to admire sculptures and take photos. The venue has become one of the most-visited places in Danang during Tet.
Between the 1st and the 3rd days of Lunar New Year 2022 (Tet) was the most crowded days in the APEC Sculpture Garden. Family members including grandparents and grandkids visited APEC Sculpture Garden to have fun and take photos of beautiful moments with their beloved ones.
Many young people who were school pupils along with college and university students were eager to stay in this venue for a few hours to take selfies.
Many social media users praised APEC Sculpture Garden for its beauty and expressed the wish to visit Danang to see it after watching the posts featuring this beautiful place.
The 8,668m2 expanded APEC Park is bounded by extended Bach Dang Street to the east, 2 September Street to the west, Binh Minh 4 Street to the south, and the existing APEC Park to the north. The total cost of construction of this project is VND 759 billion. The inauguration of the expanded APEC Park aimed to mark the 25th anniversary of Danang's recognition as centrally governed city (January 1).
Located in Binh Hien Ward, Hai Chau District, the new development comprises a public park, a stroll garden associated with an existing sculpture garden, a main stage, a water fountain, a stage for organizing cultural events, a playground for children, green areas, a parking space, and underground public toilets.
The highlight of the expanded APEC Park is the kite-shaped dome inspired from the idea of 'High Flying Kite', and nearly 200 tons of steel were used to create this item by the Ha Giang- Phuoc Tuong Mechanical Joint Stock Company.
The idea of 'High Flying Kite' reflects the changing face of Danang and affirms Danang's role as dynamic city in Central Viet Nam, as well as presents key role of Danang in driving the growth of the region.
'High Flying Kite' idea presents the role Danang plays as a driver of the regional economy. The kite is not only a reminder of childhood but also shows Danang's dreams and ambitions of its high-flying future.
Hai Chau District authorities have made great efforts to ensure the security and social order in this new attraction to help locals and tourists enjoy this place during Tet while ensuring effective control of the spread of COVID-19.
Source: danangtoday.com.vn