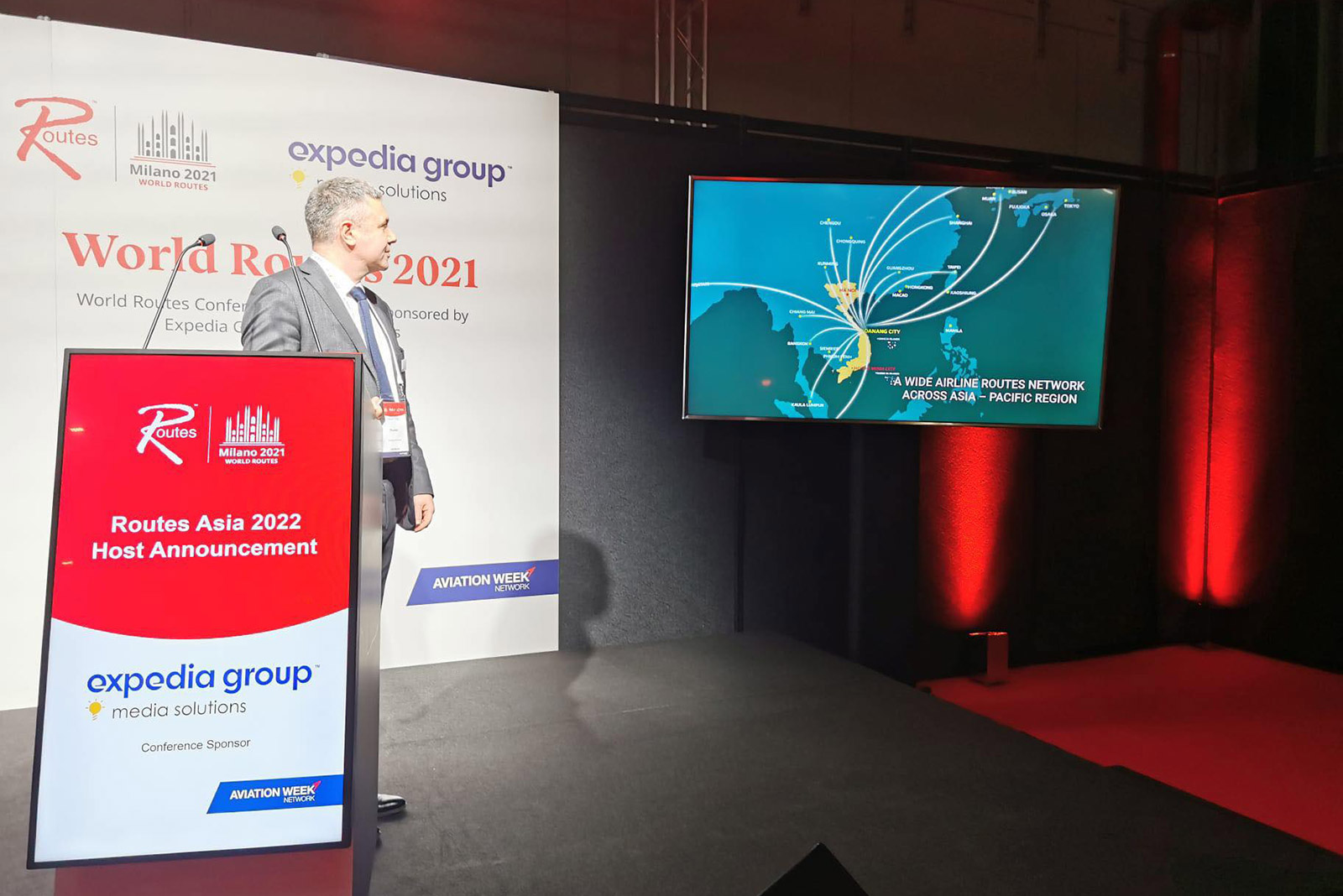 The 16th annual Routes Asia Development Forum 2022 will take place on June 6-8, 2022 in Danang, co-organized by the Danang People's Committee, Danang Department of Tourism, IPP Travel Retail, a subsidiary of Imex Pan Pacific Group (IPPG) and Informa Routes. The event is expected to offer a platform for airlines, airports and tourism authorities to boost cooperative relationships, establish new routes and expand aviation networks, then driving international tourism and aviation activities while connecting Danang with regional and global air transport networks.
"Routes Asia 2022 is a great opportunity to promote the dynamic and hospitable nature of the city. Meanwhile, this event shall deliver increased international routes to Danang, facilitating the economic recovery, specifically on tourism industry. As being chosen as the host city of Routes Asia 2021, Danang continues to affirm its position as a Asia's Leading Festival and Event destination, a dynamic aviation hub for tourism development in Vietnam and the region. ", said Mr. Nguyen Xuan Binh, Deputy Director of Danang Department of Tourism.
"Danang is a city that has experienced tremendous growth and possesses strong community strength. We aim to bring an international event, an opportunity to connect not only Danang but also neighboring provinces and cities to the world. Aviation and Tourism are two industries that have been contributing greatly to Danang's economic development; therefore, the planning and development of flight routes is one of the most important tasks to restart and restore the city's economy following the COVID-19 pandemic. This has motivated us to resolve to bring Routes Asia 2022 to Danang." – Mr. Nguyen Phi Long, CEO of IPP Travel Retail stated.
Being held for the first time in 2003, Routes Asia is the only dedicated annual route development event for the Asia – Pacific region, uniting decision makers of the global air transport industry. Within the last few years, Routes Asia was held in
Kunming, China (2015), Manila, Philippines (2016), Okinawa, Japan (2017) and Brisbane, Australia (2018). The 2019 edition of the route development forum hosted in Cebu, Philippines welcomed more than 1000 delegates, 25 speakers from across 60 countries and 113 international leading airlines.
Source: Danang Department of Tourism