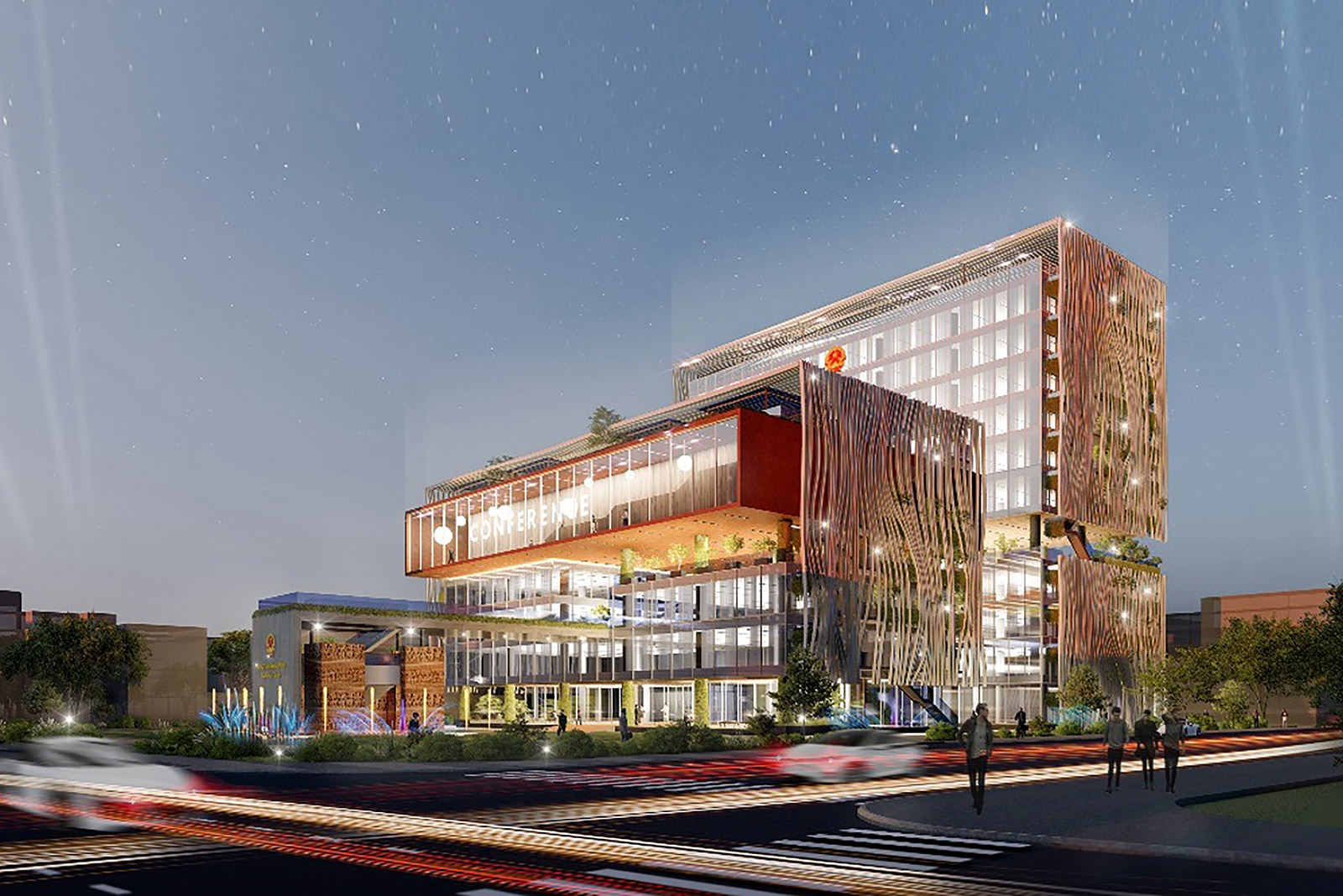 Creativity in the organization of landscape space
The expansion project, planned at 270 Tran Phu, Phuoc Ninh Ward, Hai Chau District with a total area of 8,010 m2, is expected to consist of the existing Hai Chau District Administrative Centre covering about 4,925 m2, the existing traffic island site with about 2,396 m2 and the planned-to-be-relocated houses nearby with a total area of about 691m2.
The planned project will border a 3m wide alley to the north, the current residential area to the west, Le Dinh Duong Street to the south and Tran Phu Street to the east.
The design team from the Danang Urban Planning Institute proposed the idea of expanding the building looking over Nguyen Van Linh and Han River – Dragon Bridge, instead of Tran Phu one-way street as currently.
The Center has two entrance gates. One is on Nguyen Van Linh Street for entry by visitors heading towards its lobby whilst the other has the façade on Tran Phu Street, serving as an internal gate for its staff.
Creating architectural and landscape highlights
The new Centre is an architectural complex with a layout of three blocks corresponding to the functional blocks of the public administration, office tower, hall and meeting rooms.
The project consists of two basements, two podiums, one floor of open garden space and nine floors of towers (including the technical rooftop) with a total height of 54m so as to create enough azimuth and majestically architectural appearance, and at the same time, being totally suitable for the needs of using a total internal gross floor area of 21,963m2, including two basements dedicated for parking.
It can be realized that the architectural language is modern, gentle and elegant, aiming to turn close to dwellers coming to the Centre, along with exchanges and meetings.
The podium arrays are inspired by the image of communal houses deeply imbued with traditional folk architecture features adapted into modern ones.
The main modern architectural 'language' highlights three major methods namely solid block, sunshade and glass walls.
It is notable that the design also offers a modern lighting solution because the building shows off a beautiful view over the western bank of Han River and can be fully exploited as an attractive highlight of the night landscape.
The exploitation of the aesthetic lighting beauty of the building is based on both methods of lighting up the interior and exterior spaces with the effective application of all kinds of lights, including LED ones.  This harmonious combination aims to help the project to 'truly live' at night amid the dynamic urban life of the downtown district.
Source: danangtoday.com.vn