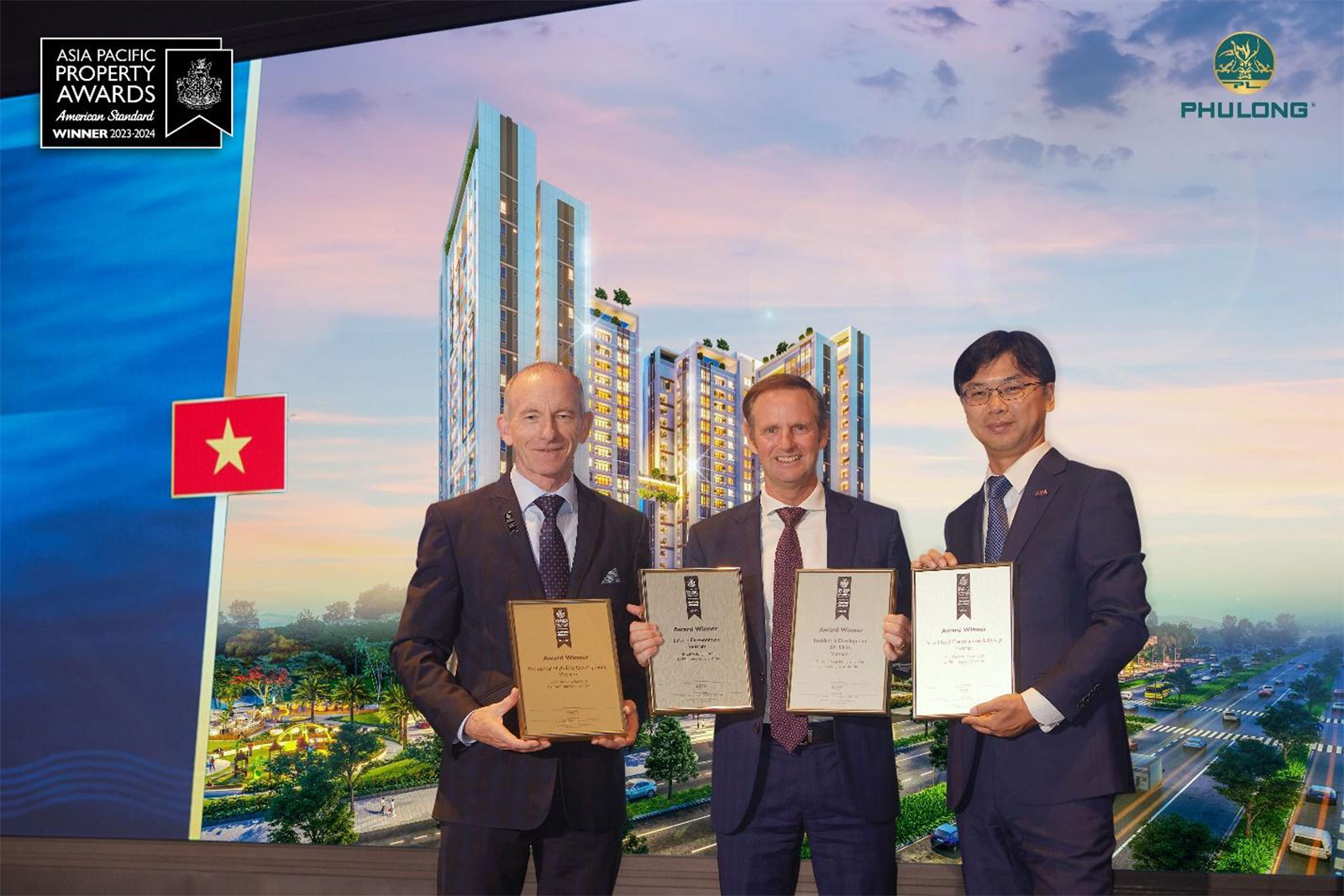 Bangkok May 31, 2023) At the Asia Pacific Property Awards 2023 – The most prestigious international award in the Asia – Pacific region, Phu Long has excellently surpassed many big brands to "hold" 4 awards for famous projects: Royal Halong Hotel, Ana Mandara Cam Ranh, Mailand Hoàng Đồng Lạng Sơn, Essensia Sky.
Accordingly, the award for Vietnam's Best Residential High Rise Development was awarded to Essensia Sky. This is a high-class apartment project with a health-oriented style and architecture for residents in Saigon South. All utilities of the project are arranged on the doorstep, meeting all the needs of friendly living, closest to nature with light, air, and green space arranged in harmony.
Mailand Hoang Dong Lang Son urban project was honored in the category of Vietnam's Best Residential Development 20+ Units. The project was officially introduced by Phu Long in April 2022. Up to now, infrastructure and utilities have been continuously improved to develop a synchronous, livable city in the form of an international commercial and commercial megacity – the new center of Lang Son city, a place for entertainment, travel, golf courses go hand in hand with the elite life.
Also honored with this resounding victory, the Royal Halong Hotel project won the award for Vietnam's Best Leisure Development. The same category of resort real estate, Ana Mandara Cam Ranh project also overcame a series of heavyweights to receive the award for Vietnam's Best New Hotel Construction & Design.
Sharing at the event, the representative of Phu Long Urban Developer, Mr. Richard Mark Leech – Deputy General Director of Phu Long said: "Phu Long is a professional urban developer with projects present in all provinces/cities across the country. With a history of nearly 20 years of operation, a series of large urban centers of great size, located in central locations, and major urban gateways have been formed. Being honored in the prestigious award categories of the Asia Pacific Property Awards 2023 has proven that Phu Long's real estate products are increasingly making an impression in the hearts of residents in particular and in the Vietnamese real estate market. South in general. We hope that the development of real estate projects of all types: housing, commercial, hotel – resort … will meet the most rigorous needs of customers, partners, and markets. school in the not-too-distant future."
Asia Pacific Property Awards belongs to the international system of International Property Awards with a large scale and high reputation, focusing on honoring businesses operating in the field of real estate project development, architecture, design, consulting and furniture. With a rigorous appraisal and review process from a Council of more than 80 professional judges, for nearly 30 years, the Asia Pacific Property Awards has been the largest and most prestigious award guaranteeing the competitive advantages of businesses and projects in the international arena.
Source: phulong.com