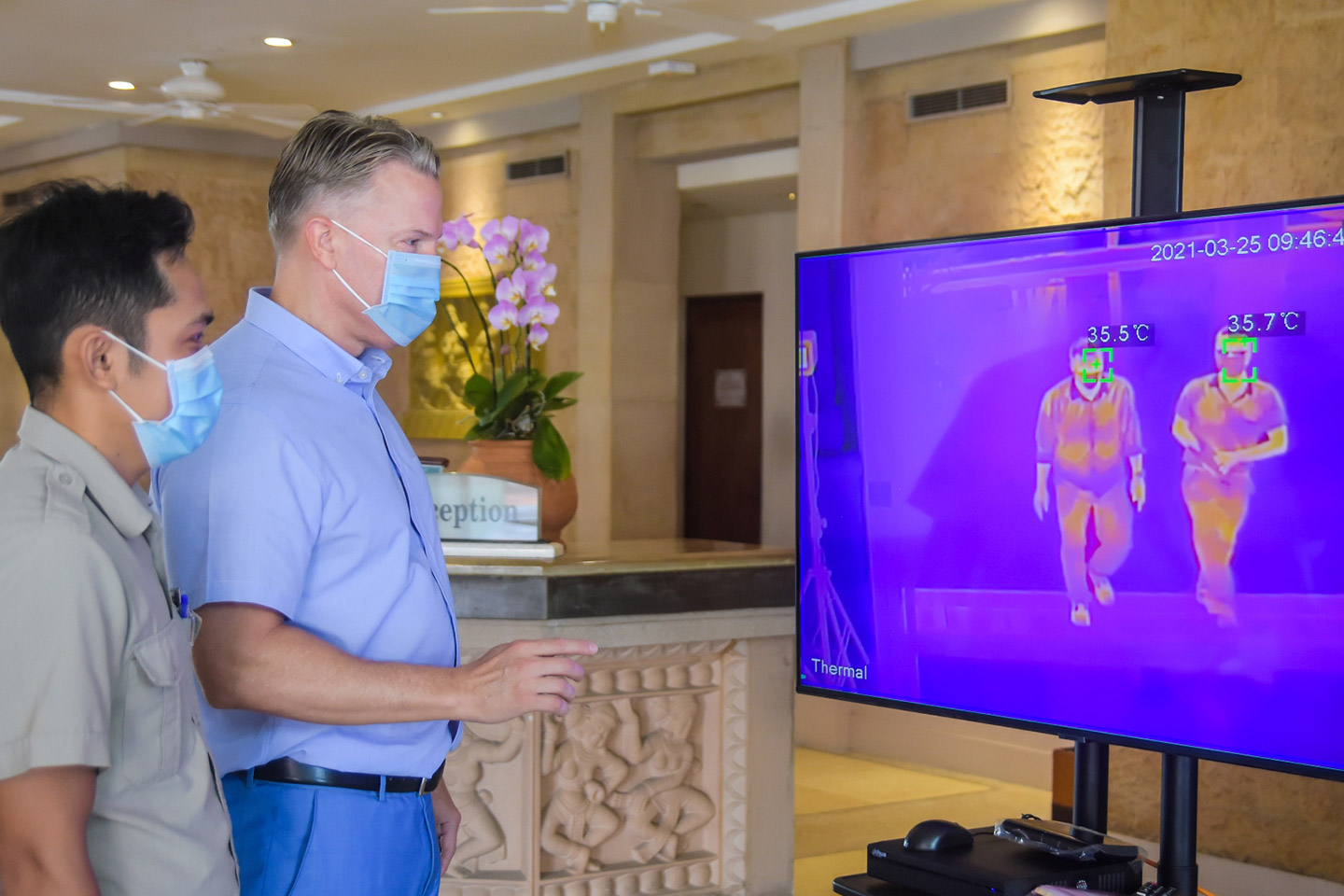 Danang, March 2021 – Ariyana Convention Centre – Furama Resort Danang has recently upgraded their Covid-19 epidemic prevention system. The Convention Centre is now equipped with a remote Thermal Camera and Temperature Monitoring device. Catering for large MICE groups that attend conferences at the Ariyana Convention Centre is now more convenient and safe. The initiative reduces the check-in time upon arrival of delegates to the 2,500 person capacity complex that was the host venue for the 2017 APEC conference.
The system includes a modern dual-camera with motion detection function, measuring and displaying temperature according to the color palette, displaying images to the central control screen, and alerting by lights and sounds when detecting moving objects with high temperature. The safety and well-being of our guests, customers, and colleagues is a top priority at Furama Resort Danang as well as Ariyana Convention Centre.
According to Mr. Brett Burton – Area General Manager of Furama Resort, Villas & Ariyana Danang: "In the context of the epidemic's challenge to the tourism industry and the change of market to local visitors, we will invest in strengthening disease prevention, to create a safer tourism environment that is capable of welcoming and controlling large groups of MICE. Thereby giving visitors confidence and peace of mind when returning to Danang".
"Ariyana Convention Centre and Furama Resort Danang remains committed to enhanced levels of cleanliness and will continue to build on existing rigorous safety and cleanliness protocols previously applied. The new remote Thermal Camera and Temperature Monitoring system will complete our safety and epidemic prevention system and increase our capacity to serve larger groups", Mr. Burton added.
This is also a move in response to the tourism promotion programs of Danang City when the government introduced policies to support businesses to restore MICE services, "Danang By Night" night activities, Lighting Performances, and Summer Rendezvous for example. The cities expectation is to welcome 100 MICE delegations in 2021 and increase the number of guests by more than 85% compared to 2020. In March and April, Ariyana Convention Centre will welcome 3 to 4 MICE groups.