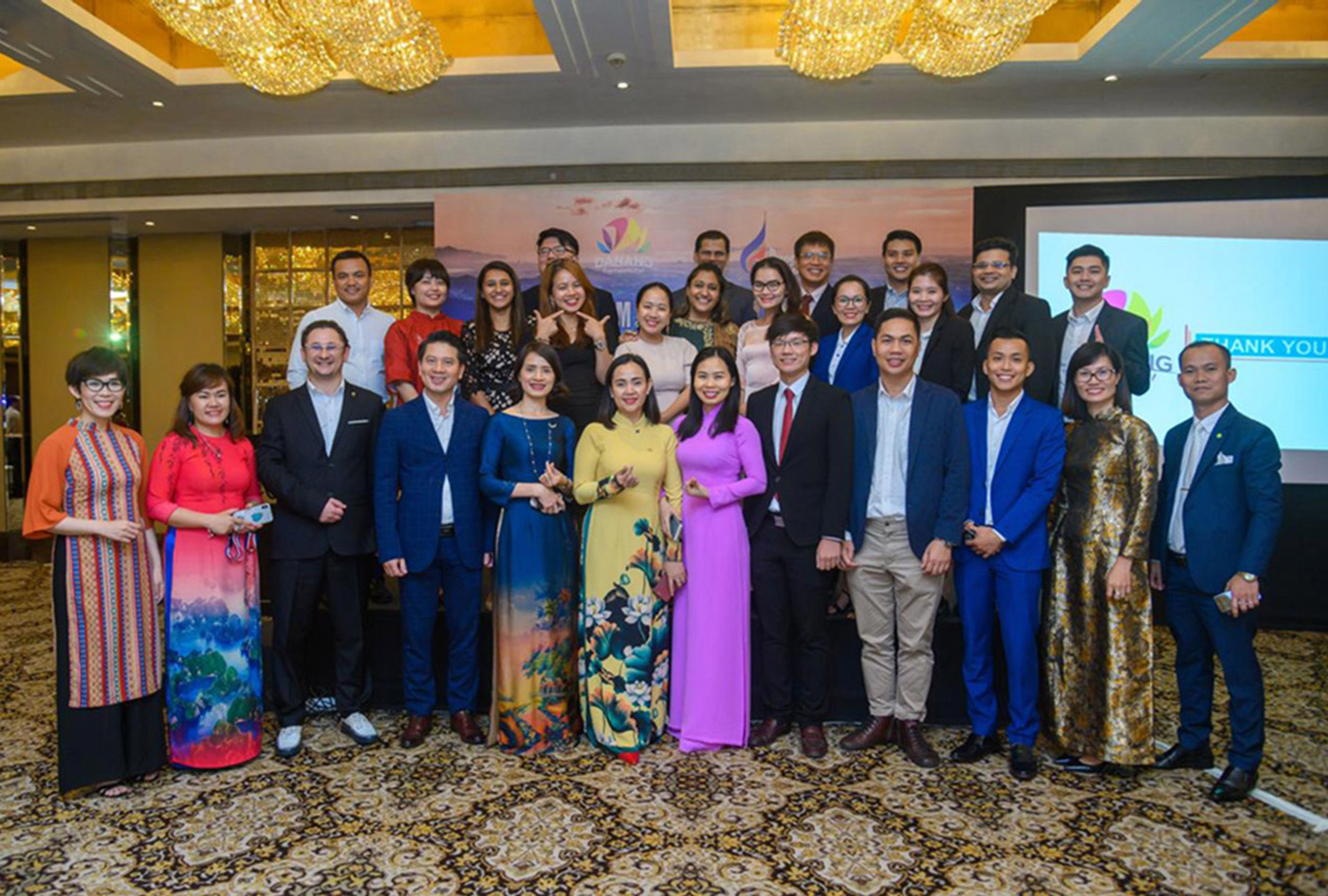 On July 25th 2019, at St. Regis Mumbai Hotel, Danang Tourism Department in cooperation with Bangkok Airways organised Danang Tourism Presentation to promote Danang tourism products and services to the Indian market as well as connect tourism enterprises and wedding planners in Danang and India. The program was conducted as part of a plan to diversify the city's international tourism market mix that the local authority has approved for the 2019-2020 period.
The event welcomed the attendance of Mr. Tran Xuan Thuy – the Vietnamese Consul General in Mumbai, India; Mr. SudhirPatil – Founder and Director of Veena World, one of the top Indian travel agencies and President of Maharashtra Tour Organisers' Association (MTOA); together with MTOA members and 72 distinguished guests. Speaking at the event, Mr. Tran Xuan Thuy emphasised the considerable potential of Danang tourism, the most worth-living city in Vietnam to Indian market.
In recent years, Danang has seen an unbalanced market mix in tourism sector and has been seeking for new potential markets. Danang Tourism Presentation program in Mumbai was an opportunity for the city to diversify its reach and expand into this huge market. With 4.5-hour Mumbai – Bangkok direct flight and 2-hour flight from Bangkok to Danang, Bangkok Airways offers great convenience to connect the largest city of India to Danang. The participants highly appreciated Danang and expressed their desire to bring events from other popular destinations such as Phuket and Bali to Danang. For the Indian market, leisure guests make up 40% of the total visitors, 40% being M.I.C.E tourists and the rest 20% being wedding tourists. Most participants have never been to Danang and this is an opportunity for them to gain an in-depth look into the destination and facilities and services of this coastal city.
Mr. Cong Nghia Nam, Director of Sales of Ariyana Tourism Complex, which comprises of Furama Resort Danang, Furama Villas Danang, Ariyana Convention Centre and the 1,450-key Ariyana Beach Resort and Suites Danang scheduled to open in late 2020 addressed: "Recognising the potential of Indian market, we have been making business plans to approach this market after the APEC Economic Leaders' Week 2017 which took place at Ariyana Convention Centre in November 2017. We have established an official representative office in India and taken part in key activities to promote Vietnam and Danang tourism to Indian market, including hosting FAM Trips from India, organising Indian Cuisine Week and Vietnamese culinary exchange in India as well as employing Indian chefs to ensure the Indian dishes preserve the traditional tastes."
"We also received special attention from Indian wedding organisers and M.I.C.E companies considering the fact that Indian people often travel in big groups from 500 to 1,000 guests. In addition, Indian firms in the pharmaceutical, technology, finance and banking industries – the major Indian industry sectors also expressed their interest in organising their events in Danang.", Cong added.
Mr. Minnat Lalpuria – Founder and CEO of Vachan, a leading Indian event agency opined: "We are really impressed by Danang's unique landscapes and diverse accommodation system. We will definitely consider moving events from familiar destinations such as Thailand and Indonesia to Danang."
According to Mr. Nguyen Duc Quynh – Deputy Chairman for the steering committee of Danang Hotel Association, "In regards to the tourism market mix of Danang in particular and Vietnam in general, we strongly depend on only 1 or 2 markets. Expanding into India would be the inevitable solution in order to balance the market mix. With a large number of potential customers from India, I believe that we will be able to solve this thorny problem of Danang tourism industry".
World Tourism Organization (UNWTO) has predicted that approximate 50 million Indian tourists travel overseas and Vietnam definitely is an unskippable country. Having recognised the huge potential from this market, Danang is promoting its image to Indian customers through major activities such as welcoming H.E President of India Ram Nath Kovind and First Lady during a state visit to the central city of Danang in November 2018, hosted by the Vietnamese government at the Furama International Convention Palace; organising culinary exchanges between 2 countries and hosting Indian FAM trips to get to know the city's tourism products. It is also expected that direct flights between Danang and India will be executed in the upcoming time. Besides, the city will also develop and improve its facilities in order to attract more Indian visitors. Promoting Danang to the second most populous country in the world with 1.31 billion people will be the solution to balance the international tourism market mix for the most worth-living city in Vietnam.