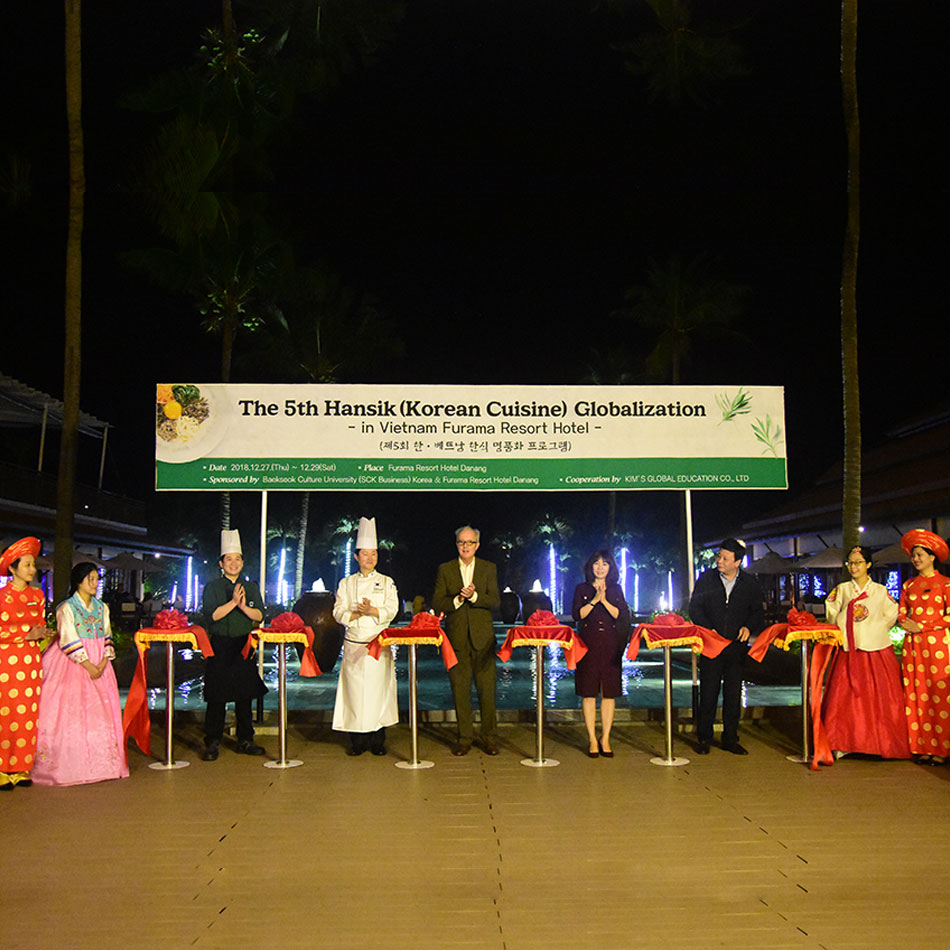 From December 27th – 29th 2018, Furama Resort Danang in cooperation with Danang College of Tourism and BaekSeok Culture University (Korea) organized the "Hansik Night" Korean Food Promotion at the signature Café Indochine restaurant.
Gourmets were treated to a wide range of Korean cuisine, featuring Bulgogi, Chungmu – Gimbap, Bibimbap, etc… In addition, the buffet also introduced to guests more than 70 delicious dishes including half a lobster, unlimited scallop, squid, octopus , etc…which are cooked to your taste accompanied with 20 different kinds of homemade sauces.
The event was held under the supervisor and guidance of professors Seo Kang-tae and Cho Jeong-yoong from the BaekSeok Culture University and Furama Resort Danang's Executive Chef Doan Van Tuan.
"Through this meaningful event, we would like to introduce delicious traditional Korean dishes with the aim of popularizing Korean cuisine culture to Vietnamese people", opined professor Seo Kang-tae.
Ms. Truong Thi Hong Hanh, Vice Director of Danang Tourism Department: "With the significant growth of more than 60% in 2017, the Korean market still expects positive growth in the upcoming years. The Hansik Night does not only create a chance for culinary exchange between two countries but also help chefs enhance their professional skills to better satisfy international diners.
According to Mr. Matthias Wiesmann – Furama Resort Danang's General Manager: "It's our honour to welcome professors and culinary students from Korea to conduct this Korean Food Festival at the Furama Resort. We hope that this event has brought hands-on Korean cuisine experiences to local people and international visitors staying at Furama Resort. In 2018, Korean guests made up approximately 50% of the total resident guests. This program would also help to enhance Furama chefs' skills, creating distinctive flavors for Korean food at Furama Resort Danang."
Being one of the most best culinary resorts in Vietnam, Furama Resort Danang is famous for its diverse food festivals year round, attracting a number of local and international guests, namely Indian Food Fesival, Hongkong Culinary Week, Vietnam Folklore Night, Tet Village Market or Oktoberfest Beer Festival.