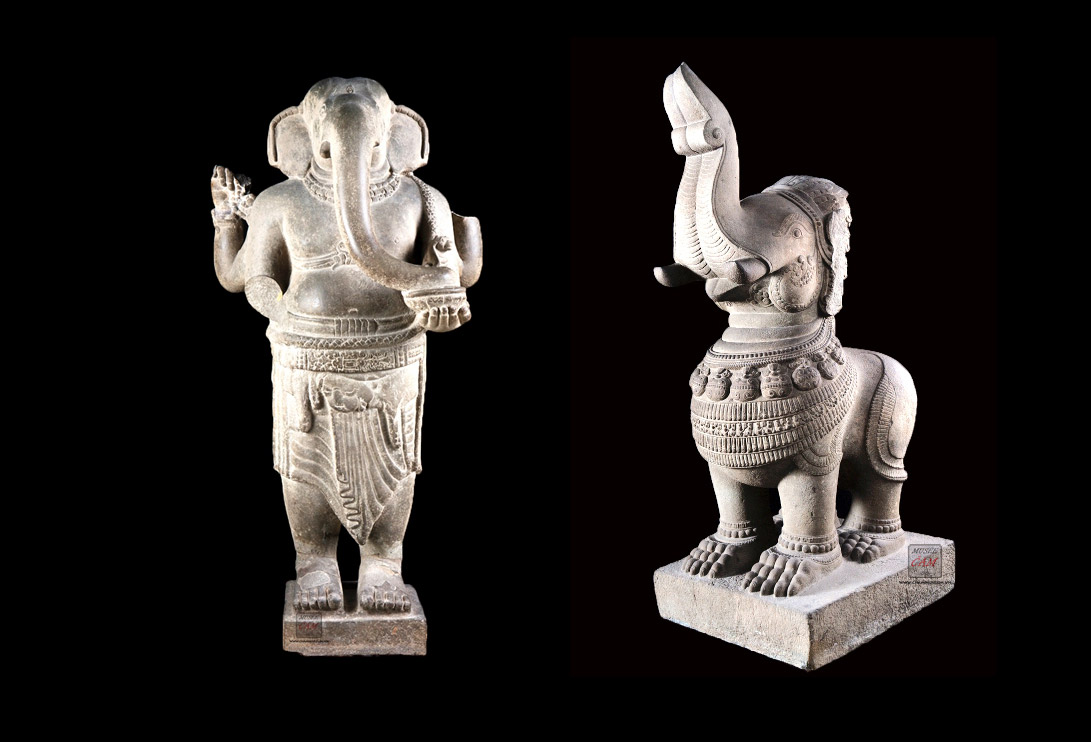 Two sandstone statues – Ganesha and Gajasimha – which are on display at the Chăm Sculpture Museum in the central city – have been recognized as National Treasures following a Prime Minister's decision.
The museum said the recognition was issued on New Year's day, adding to the list of six National Treasures that have been preserved so far by the museum. Ganesha, one of the best-known and most worshipped deities in the Hindu pantheon, is readily identified by his elephant head. He is widely revered, more specifically, as the remover of obstacles; the patron of arts and sciences; and the deva of intellect and wisdom
The statue of Ganesha was excavated in 1903 at E5 tower of the Mỹ Sơn Sanctuary in Quảng Nam Province by a group of French archaeologists. It was stored by the museum since 1918.
Gajasimha is a mythical hybrid animal in Hindu mythology, appearing as a sinha or rajasiha (mythical lion) with the head or trunk of an elephant. It was found at the Mẫm tower in Bình Định Province in 1933-34, and displayed at the museum from 1935.
The museum, a popular tourist destination in the city, stores and preserves four other National Treasures including the Trà Kiệu Pedestal; the Mỹ Sơn E1 Pedestal; statue of Tara/Avalokiteshvara and the Đồng Dương Pedestal.
Chăm Sculpture Museum of Da Nang, situated on the west bank of the Hàn River, was built in late 1915 with a big contribution from Henri Parmentier, a prominent archaeologist with the L'Ecole Francaise d'Extreme Orient (the Far East Archaeological Research Institute) in Hà Nội. In mid-1919, he published the first catalogue of the museum, marking its inaugural ceremony.It preserves and display thousands of artefacts and sandstone statues found at many Chăm towers and excavations from the Sa Huỳnh Culture (between 2,500 and 3,000 years old) in the central region.