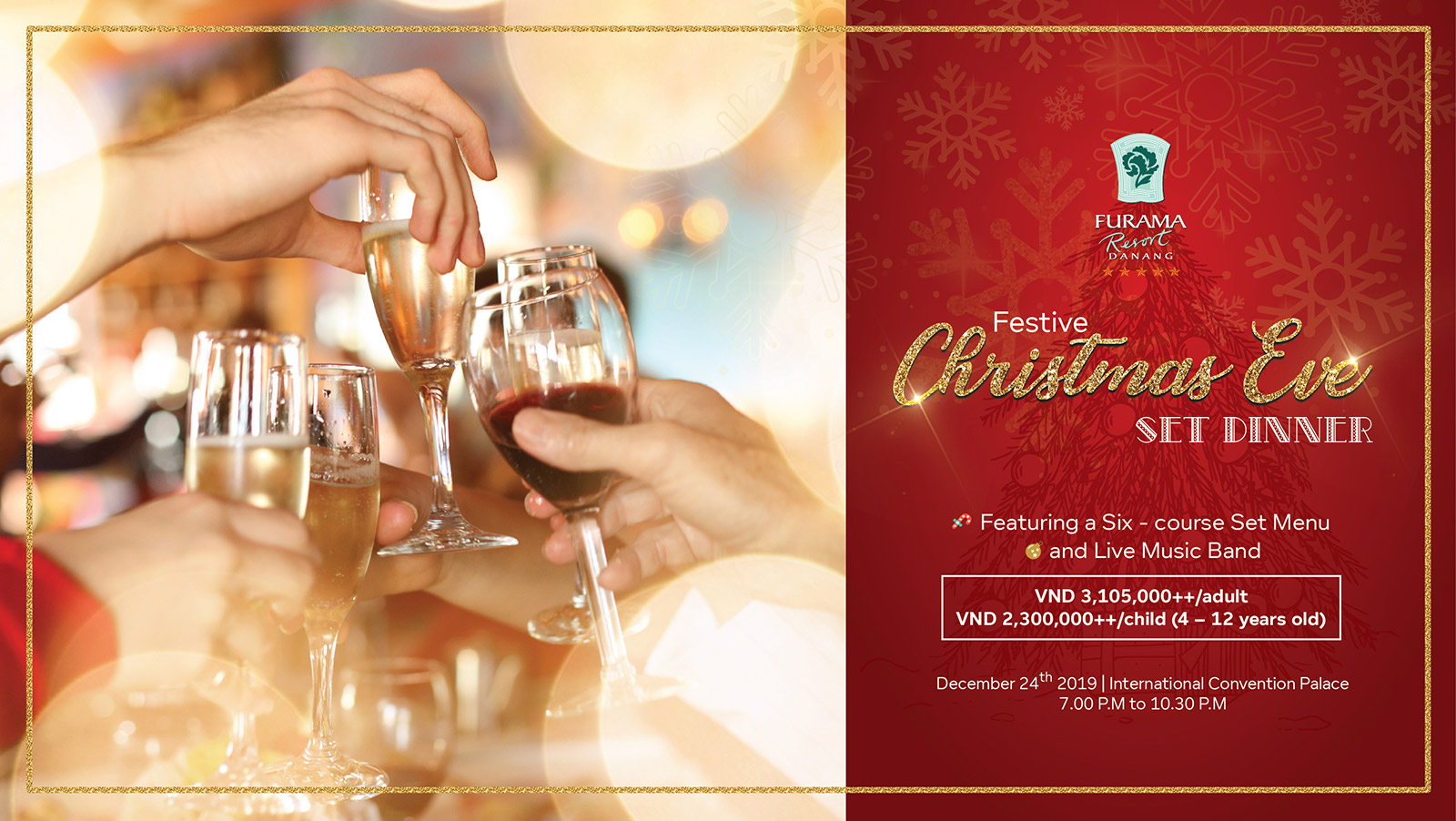 As the year 2019 comes to a close and the Festive Season draws closer, let's get ready to celebrate! This year's Festive Season, Furama Resort Danang invites you on a gastronomic journey to savour the most delectable cuisine prepared by our professional culinary team:
CHRISTMAS EVE
Tuesday, December 24th 2019
VND 3,105,000 ++ /Adult * VND 2,300,000 ++/Child (4-12 years old)
Carolers singing in Vietnamese and English greet our guests on Christmas Eve at 6:30 pm. The hotel foyer will be filled with voices, music and dances performed by a choir from school children throughout Danang. Afterwards, Christmas celebrations will start with a six-course set menu including a glass of sparkling wine. Dinner will be served in the magical ambience of the International Convention Palace – ICP from 7:00 pm to 10:30 pm. Enjoy an evening of gourmet cuisine with Christmas cheers, and immerse yourself in the golden era of Jazz with melodious Christmas rhythms played by Danang International Quarter Band and of course Santa Claus with gifts for the children and adults alike.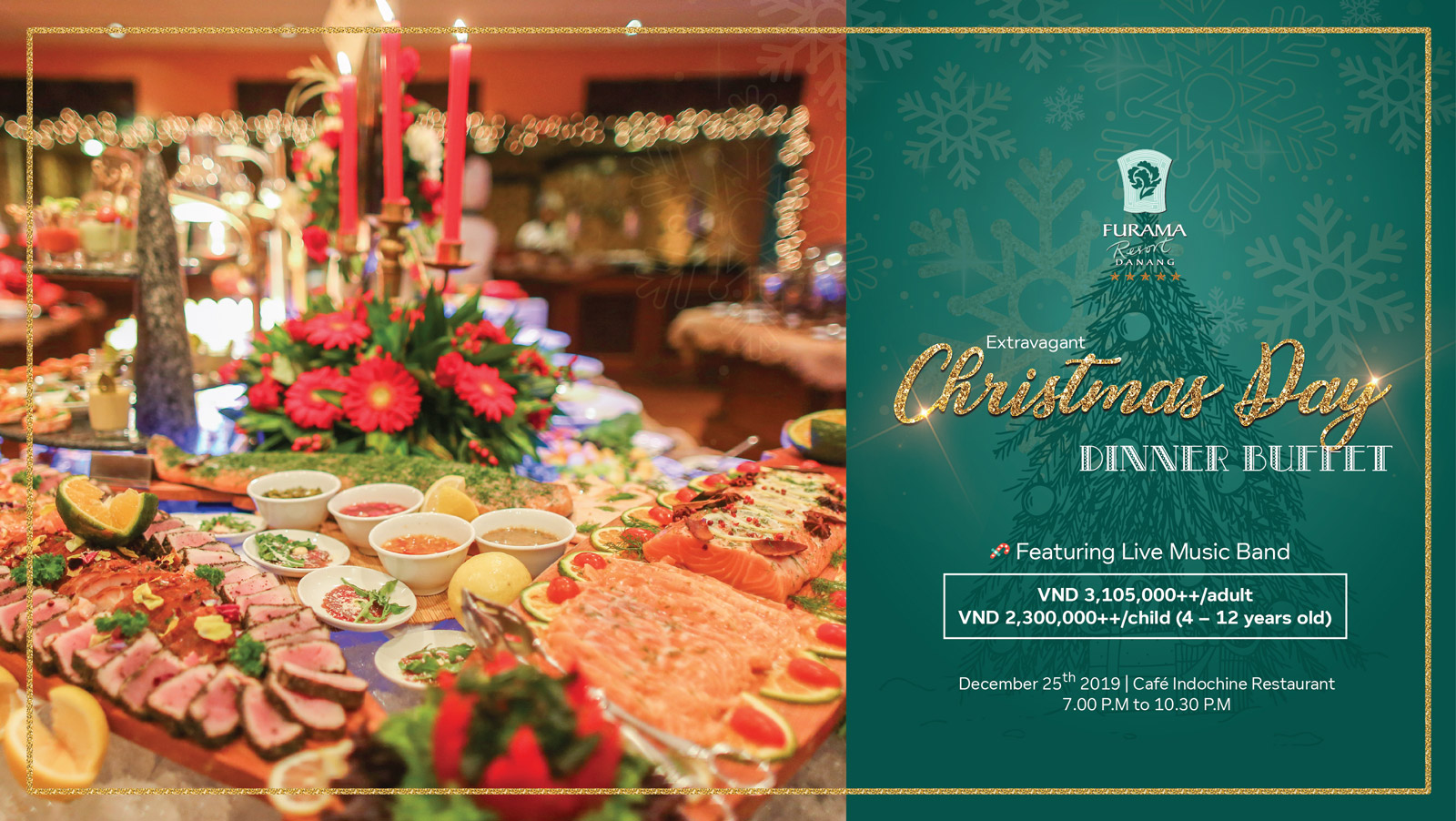 CHRISTMAS DAY
Wednesday, December 25th 2019
VND 3,105,000++ /Adult * VND 2,300,000++/Child (4-12 years old)
Danang Christmas Choir will once again beguile & enchant you at 6:30 pm in our Hai Van Lounge, then the Café Indochine Restaurant. Afterwards, guests can enjoy subtle entertainment and a lavish Christmas Dinner Buffet including a glass of sparkling wine.
The dinner will be served in our Café Indochine Restaurant from 7:00 pm to 10:30 pm. It contains all the traditional seasonal favorites as well as a vast array of Asian and Eastern delights. Melodious music from our Filipino Band will enchant to bring people together and drive away the cold spell of a winter night.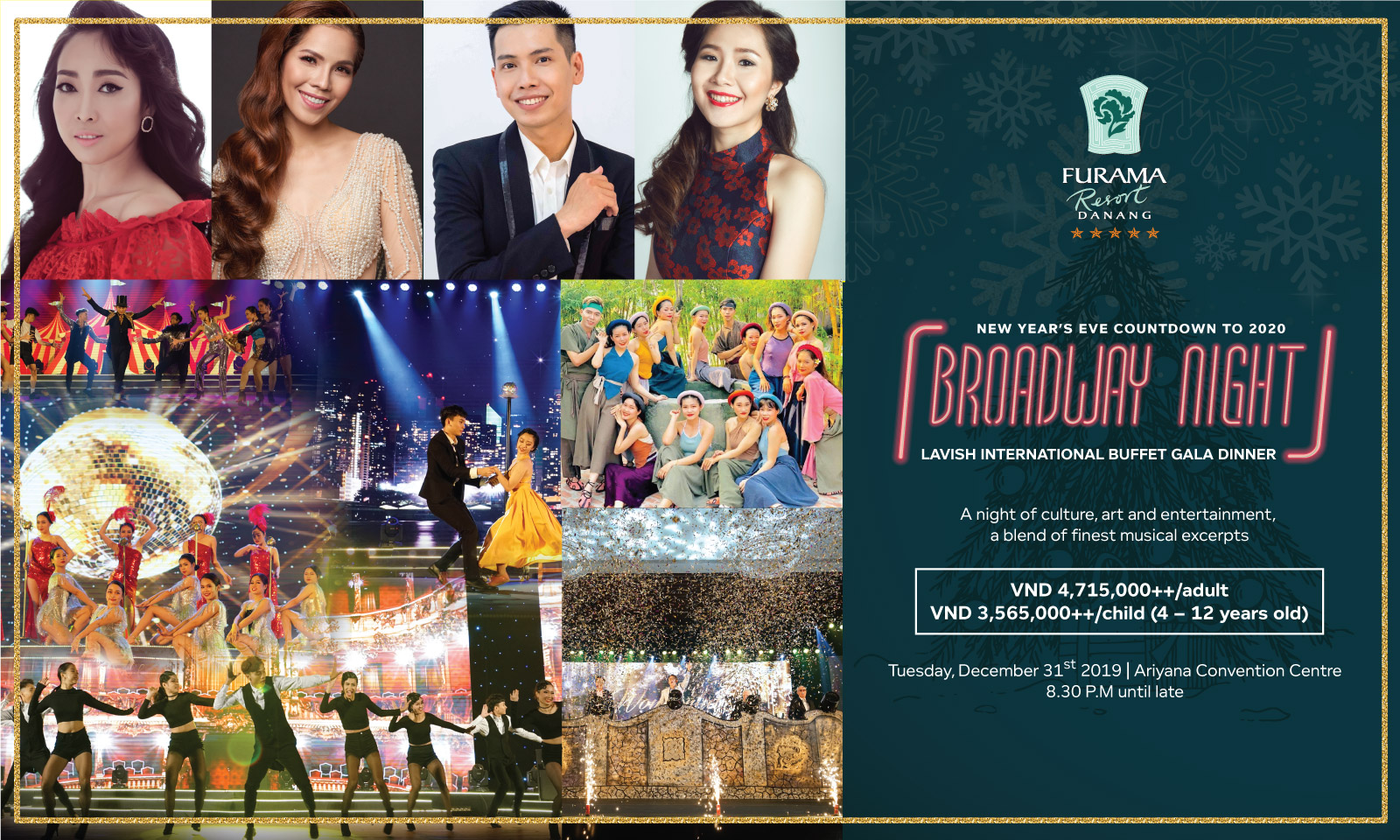 BROADWAY NIGHT
Including New Year's Eve Gala Dinner
Tuesday, December 31st 2019
VND 4,715,000++/Adult * VND 3,565,000++/Child (4-12 years old)
Broadway – a night of culture, art and entertainment; a blend of the finest musical excerpts and the marvellous interaction of music, lights, effects and stage designs, introduced by the Ariyana Convention Centre.
In this one-night-only event, the spectacular Broadway show will excite you with more than 10 classic musical excerpts featuring "Phantom of the Opera", "Habanera", "This is the moment" performed by celebrated singers namely Ly Hoang Kim – leading role "Giang Huong" in the musical of the same name, Gold medal and "Best Performance" award at "Bohol International Choir Festival and Competition" with Saigon Ladies band; Tan Dat – leading actor "Tu Thuc" in musical "Giang Huong"; Julie Thanh Nguyen – Top 3 national television singing contest "Sao Mai" ("Morning Star") for European region, also popular with her French music Live Concerts and Vo Thuy Ngoc Tuyen – solist of Ho Chi Minh City Ballet Symphony Orchestra and Opera, third-place winner of the National Classical Vocal Contest.
Treat your eyes to the next 7 thrilling performances of 20 sprightly and grateful dancers from Hoi An "Trieu Dan Dancing Troupe" – a combination of traditional and modern dances: Co Tam, Tru Mua, De Mi Noi Cho Ma Nghe…
For those who are passionate about the delicacy of the finest cuisines, let the cheerful melodies lead your steps with a hearty feast in the most luxuriously mesmerizing ambiance.
Together with a display of the superb culinary delights, let us present you with sparkling lights and fancy decorations which will mark one of the greatest entertaining parties from the heydays of the last century.
The deluxe International Dinner buffet features premium beef steaks in Teppanyaki style, fresh lobsters, bird nest soup, mouth-watering barbecued seafood, delicious dessert favorites and many more.
While dressing yourself up in those glittering evening gowns, delicate lace dresses or elegant suits to join in the world of glamorous musicals and entertainments. Dance the night away to the countdown and celebrate the New Year's moment with us to all come together!
For reservation, please contact our Food & Beverage hotline at +84 236 651 9999 or email fb@furamavietnam.com.